Yeah, I think I'm going to do another grounding clamp on the copper rod so I don't lose connection on that end. Where I lost connection was the rotating wheel hanging from the copper rod.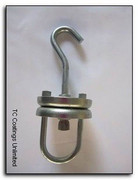 The hook and the U shape hanger surprisingly don't touch.. That's where I lost my connection. I might have to look for something heavy duty that can rotate at the moment.
Yeah, my unit only came with a one lbs and a two lbs hopper. I was looking into getting a small mini regulator and another water separator or water drier attached to the box itself.